Learn more about the Business Community in our area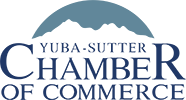 Yuba-Sutter Chamber of Commerce
The Yuba-Sutter Chamber of Commerce supports local businesses as a partner by promoting economic growth and development opportunities that serve to enhance economic vitality.
Visit the Yuba-Sutter Chamber


Colusa Chamber of Commerce
The Colusa County Chamber of Commerce is here to serve the businesses of Colusa County by connecting them to area residents, visitors and other businesses. Historically, and to this day, the Chamber of Commerce remains the most trusted source of information on local businesses and services, as well as being the most dependable ally in commerce. 
Visit the Colusa Chamber
Butte County
Chamber of Commerce's

Chico Chamber of Commerce
As the voice of local business, the Chico Chamber of Commerce, through its Legislative Action Committee, advocates on behalf of businesses local and state legislation, ordinances and regulations.  
Visit the Chico Chamber

Gridley Area Chamber of Commerce
The mission of Gridley Area Chamber of Commerce is to support and continue to develop a progressive business community that provides and promotes strong leadership and advocates for its members and the community.
Visit the Gridley Area Chamber

Oroville Chamber of Commerce
The duty of the Oroville Area Chamber of Commerce is to create powerful partnerships to unite and grow member businesses. It is our business to help your business succeed.
Visit the Oroville Chamber
Paradise Chamber of Commerce
The Paradise Ridge Chamber of Commerce is an organization of business people sharing local pride, professional expertise and a commitment to growth. Together, we promote the civic and commercial progress of our community.
Visit the Paradise Chamber
About Us
The Sutter-Yuba Association of REALTORS® was founded in 1967 and proudly serves more than 450 REALTOR® Members.
Sutter-Yuba Association of Realtors®
1558 Starr Drive, Yuba City, CA 95993
Office: (530) 674-4222
Fax: (530) 674-4304
Association Hours of Operation
Mon–Fri: 8:00 am – 4:00 pm
(closed for lunch 12:30 pm to 1:30 pm)